If you've ever been walking across a parking lot and wondered "what the heck smells like marshmallows?" then you have noticed the rise of the e-cigarette or "vaping" trend. Like we did with craft beer a few months back, we decided to look into USPTO applications for vaping trademarks as an indicator of growth in the industry.
Using Name Warden's USPTO data in goods and services, we searched applications for vaping trademarks containing any of the following key words or their plurals: vape, vaping, electronic cigarette, liquid nicotine, eliquid, and cartomizer.
Here's what we found.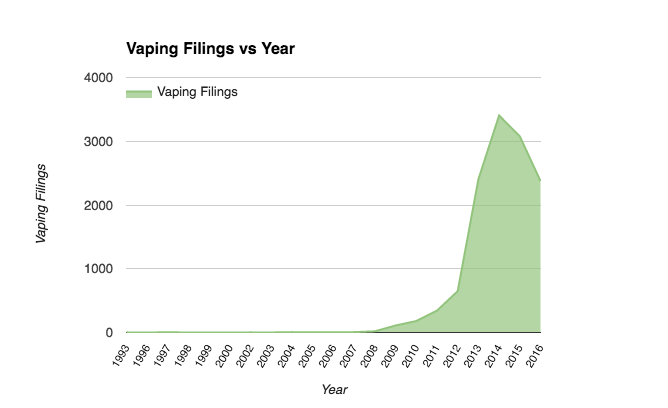 In 1993 there were a mere two applications for vaping products. Compare that to the 3,404 in 2014. Just looking at the filing trends, it's clear when the industry really took off. We went from 649 in 2012 to 2,404 in 2013. Business was clearly booming from 2013-2014 – with almost 4 times the filing applications for vaping products. You can also see that there has been a decline in the last couple years, suggesting slowing growth in the industry after the huge growth a few years ago.
With 2016 projected to have 2,376 filings, trends in vaping trademarks show that the vaping industry continues to add brands and products, but at a slower rate than a few years ago.