Our users love how easy trademark docketing and defense is with Name Warden. By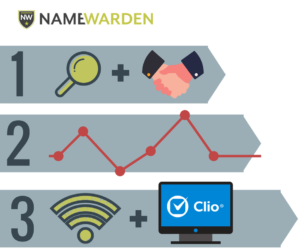 eliminating the need for data entry and automating tasks, Name Warden has saved trademark attorneys countless hours of admin work. But there are other Name Warden features beyond trademark monitoring and defense! Here are 3 cool Name Warden features to know about.
Find New Clients
There are a lot of business owners who file trademark applications on their own, and then receive an office action or notice of allowance they don't understand.  With Name Warden's Client Finder feature, trademark lawyers receive a report of each such DIY filer who now has a deadline he doesn't know how to handle.  You can offer your services exactly when they are needed. Client Finder provides current lists of all trademark applicants who have an office action, opposition, or required ITU filing but no listed attorney. You'll receive full contact details for these applicants, as well as their application data.
Uncover and Monitor Trends
Name Warden is essentially a robot that crawls the USPTO database to find terms and deadlines based on each user's docket. Beyond your own marks, you can use Name Warden's defensive monitoring feature to research USPTO data for any key words and categories. It's how we stay on top of new beer names, memes, and other fun trademark categories we like to blog about.
Connect to Clio
Are you a Clio user?  Many small and mid-sized firms are!  That's why we've partnered with them to become an official Clio connected app. Connect Name Warden with Clio, and your trademark docket will appear as tasks and calendar items within Clio, automatically, syncing back and forth as you manage deadlines and complete filings on either site.
These great Name Warden features are all included for one low price!
Don't spend valuable, billable time on tasks that can be delegated to robots! If you're not already a user, try it for free for 14 days. We don't require a credit card, and set-up is easy. All you have to do to get started is search by email address, attorney name, mark, or serial number. We will show you what the USPTO has for you, and build your Docket. Name Warden will show you all deadlines for your Docket list, and send you email reminders of what is coming up.

http://www.namewarden.com/wp-content/uploads/2015/11/NWfinallogo.png
0
0
Ashley Ray
http://www.namewarden.com/wp-content/uploads/2015/11/NWfinallogo.png
Ashley Ray
2017-07-14 14:56:42
2017-07-14 14:56:42
Name Warden Does What?! 3 Cool Features You May Not Know