It's a better time than ever to sell weed.  The past few years have been exciting for marijuana entrepreneurs. Since medical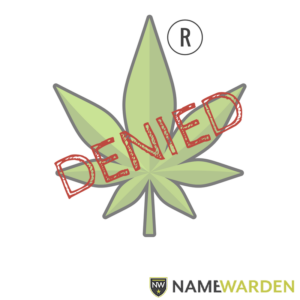 marijuana is now legal in 28 states, cannabusiness has been booming. But being in the marijuana business is not exactly easy street. While it may be lawful in your state to own and run a marijuana business, federally registering marijuana trademarks is not. Pot is still on the federal DEA Schedule I of controlled substances, and the USPTO is governed by federal law.
Marijuana Under Federal Law
According to the Controlled Substances Act, "any equipment, product, or material of any kind which is primarily intended or designed for use in manufacturing, compounding, converting, concealing, producing, processing, preparing, injecting, ingesting, inhaling, or otherwise introducing into the human body a controlled substance, possession of which is unlawful under the CSA." This is why the USPTO has consistently refused to register marijuana related trademarks.
For example, the USPTO denied the marijuana related trademark application of JUJU JOINTS. The denial was based on the "lack of lawful use of the mark in commerce under Sections 1 and 45 the Trademark Act, 15 U.S.C. §§ 1051, 1127."
The attempt to trademark "Herbal Access" under goods for use with "retail store services featuring herbs" is another example. This marijuana related trademark was an attempt to use "Herbal" to describe marijuana. According to Law 360, "the Trademark Trial and Appeal Board agreed with trademark office that the services were 'unlawful' and refused the application."
The USPTO is on (ahem) high alert.  Some non-marijuana trademarks have been denied because they appeared to be marijuana related. One example is the mark "THCTEA" for use with tea-based beverages. THC was meant to be an abbreviation for "Tea Honey Care" and did not contain any marijuana. The mark was denied because the initials suggest the abbreviation for tetrahydrocannabinol (the active chemical in marijuana). The USPTO cited Section 2(e)(1) of the Lanham Act, stating that the mark was "deceptively misdescriptive."
Acceptable Marijuana Related Trademarks
So what does fly high with the USPTO? The USPTO has granted approval for some ancillary products and services. The USPTO approved these  because the products and services themselves do not contain or facilitate the use of marijuana.
Examples of these approved marijuana-related trademarks are:
Technology and tools for the industry
Marijuana based news like "High CBD Veda Chews" or "Medical Jane"
Cannabis consultancies like "Just Say Yes"
Medical marijuana medical referral services like "Dr. Ganja"
Marijuana related apparel like "The Marijuana Company"
And marijuana-related patents have been approved in the name of innovation and research. For example, the patent given to Biotech Institute in California for "specialty cannabis plants, compositions and methods for making and using said cannabis plants and compositions derived thereof."
For those who deal directly in marijuana products, all hope is not lost. Common law trademark rights still protect business owners from others who may infringe, however only within the state.  There are also state registries that can provide some level of protection, though with much more limited geography.
http://www.namewarden.com/wp-content/uploads/2015/11/NWfinallogo.png
0
0
Ashley Ray
http://www.namewarden.com/wp-content/uploads/2015/11/NWfinallogo.png
Ashley Ray
2016-12-29 20:07:38
2016-12-29 20:07:38
High Hopes Blunted for Marijuana Trademarks