Here at Name Warden, we work with trademarks, and we like beer.  Lately we have seen a lot of beer companies feuding over trademark rights.  For example, Magic Hat v Georgetown Brewing, Lagunitas v Sierra Nevada, Bell's v Innovation Brewing, and on and on.

We were wondering why there seems to be so much squabbling over beer trademarks.  Maybe as more craft breweries have gone into business, more new brands mean that people are tripping over each other.
We ran the numbers and here is what we found.  Behold, fifty years of applications to register beer trademarks (click the image for a larger view):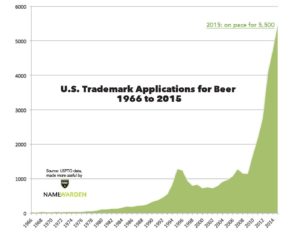 There were upticks in applications to register beer trademarks in the mid-90s and then again between 2006 and 2010.
But the big movement is the big increase from 2011 to now.
2015 is on pace for about 5,500 new trademark applications for beer brands.  That is over five times more than ten years ago, in 2005.  So drink up, everybody.  Cheers to protecting those new beer brands!
(We searched Name Warden's USPTO data in International Trademark Class 32, the classification that includes beer, here are the number of marks each year that have included the word "beer" in the description of goods.  We have excluded any that refer to "non-alcoholic," to exclude applications to register trademarks for things like root beer or ginger beer, which are also part of International Class 32.)
---
Name Warden gives you unlimited dockets and three free defensive marks for only $275 per year. Try it now for free—no credit card required.
Client Finder

gives you current lists of trademark applicants who could need an attorney right now. Subscribe monthly—cancel anytime.