It's only mid-August, but the Back-to-School ads are everywhere, which can only mean that football season is also upon us.
Here at Name Warden, we see everything through a trademark-related lens, and it's been a busy summer for football trademarks.

Here is a little rundown of pre-season, football-related trademark news:
1.  Redskins
Of course, the biggest story is that the Washington Redskins lost a federal district court case in July, which was the team's appeal from a Trademark Trial and Appeal Board
ruling.  The case is Pro-Football v. Blackhorse, where the NFL appealed the TTAB's 2014 cancellation of the REDSKINS trademark registration on Lanham Act 2(a) disparagement grounds.
2.  12 in Seattle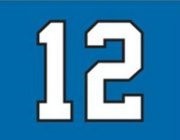 Also in July, the Seattle Seahawks secured from the USPTO the registrations number 4775754, for a design mark with a jersey-
style "12" on a blue background, and number 4773578 for the word mark "12s."  This continues a line of 12-related registrations for the team, and they have filed for six more.
The number 12 is of course a reference to fans being the "12th Man" on the field, but 12TH MAN is a registered mark of Texas A&M University (Reg. No. 3354769, registered in 2007.  The Seattle NFL team and the College Station, Texas squad reportedly have a $5,000 per year license allowing Seattle's uses of "12"-related marks.
3.  Urban Meyer
Those of us who pay attention to both sports new and trademark news have kept an eye on the "Johnny Football" registration efforts of now-Cleveland Browns quarterback Johnny Manziel.  Ohio State University has taken a different approach, registering the name of its coach, URBAN MEYER, as Reg. No. 4770248, and URBAN MEYER KNOWS, Reg. No. 4769197, for clothing.  One wonders what will happen if and when coach Meyer moves on to a new gig outside of Columbus.
---
Name Warden gives you unlimited dockets and three free defensive marks for only $275 per year. Try it now for free—no credit card required.
Client Finder

gives you current lists of trademark applicants who could need an attorney right now. Subscribe monthly—cancel anytime.