Likelihood of confusion rejections – 2(d) refusals – are a common type of obstacle for a trademark application.  When the examining attorney finds a similar-looking
trademark in the USPTO records, for similar-seeming goods or services, up goes the 2(d) flag.
What if there is not just one other user of a similar mark, but many?  Is it ever better to find yourself in a crowded field?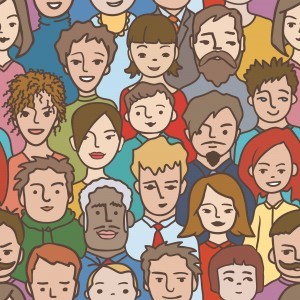 Evidence of multiple active users of a similar trademark can overcome a USPTO examining attorney's refusal by creating a limited scope of protection.
Problem is, you guessed it, that limited scope of protection is all that your client can expect to have as well.
Evidence of third party registrations and active use by more than 20 businesses of the name "Anthony" for Italian restaurants and pizza places resulted in a restricted scope of protection for the name.  Anthony's Pizza & Pasta Int'l Inc. v. Anthony's Pizza Holding Co., 95 1271 USPQ2d (TTAB 2009), aff'd 415 Fed. Appx. 222 (Fed. Circ. 2010).
A trademark in a crowded field (measured by concurrent use, not merely registration) can be weak, and therefore entitled to less protection.  Moose Creek, Inc. v. Abercrombie & Fitch Co., 331 F.Supp. 2d 1214, 73 U.S.P.Q.2d 1287 (C.D. Cal. 2004), aff'd, 114 Fed. Appx. 921 (9th Cir. 2004).
One of the predominant trademark law treatises states the crowded field issue this way: "[I]n a 'crowded' field of similar marks, each member of the crowd, is relatively 'weak' in its ability to prevent use by others in the crowd." J. Thomas McCarthy, McCarthy on Trademarks and Unfair Competition, § 11:85 at 11-163 (4th Ed. 2001).
---
Name Warden gives you unlimited dockets and three free defensive marks for only $275 per year. Try it now for free—no credit card required.
Client Finder

gives you current lists of trademark applicants who could need an attorney right now. Subscribe monthly—cancel anytime.